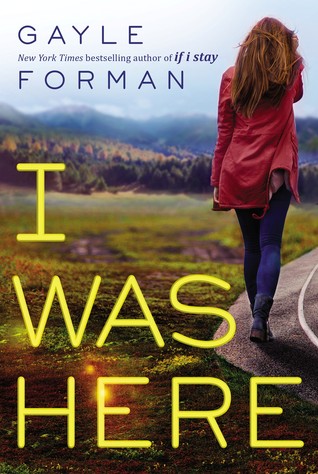 Title: I Was Here
Author: Gayle Forman
Narrator: Jorjeana Marie
Story rating: 3 of 5 Stars
Audio rating: 5 of 5 Stars
Overall rating: 3 of 5 Stars
MY THOUGHTS
Well, I can't say that I haven't been warned. Many of my friends were disappointed in this book. But it didn't stop me. I've read and absolutely loved If I Stay and Where She Went. I added both of these books to my "true-book-love" shelf (I don't do this easily). And I just wanted more of Gayle Forman's writing. So I lowered my expectation a little and picked up I Was Here.
And I ended up disappointed like many of Gayle Forman's fans. I had several issues with this book, and I'll tell you later what they were.
This story is about Cody, whose best friend Meg killed herself. They were best friends forever in High School, and when after graduation Meg went to college and left Cody behind in their small town, they stayed in touch. Cody thought she knew everything about Meg. So it's a shock when Meg ended her life. Meg's parents asked Cody to go to Meg's place and pack her things. When she got there she met Meg's roommates, a boy Meg had a crush on and discovered a whole part of Meg's life she knew nothing about. Later she found a cryptic file on Meg's computer which can be a key to her death. So began Cody's journey to finding the truth about Meg's life and death and maybe about Cody herself.
And now about my issues.
I wasn't grieving with Cody. This book is about grieving; this book is about a girl who recently lost her best friend. I expected my heart to be broken. I expected to feel, to cry. Nothing. You know I'm a crier. I often cry over books, but there wasn't a single tear from me while I was reading I Was Here. I know that Gayle Forman can write grieving. I couldn't help myself but compare this book to If I Stay and Where She Went. I felt so much while reading those books, there was an avalanche of emotions.
In truth it's like I was cheated with I Was Here. Gayle Forman went with this formula: an average girl with tragic past meets a rock boy, who is arrogant womanizer with pretty eyes. He changes for her and of course he saves her. Sounds familiar? I've read this so many times before. I expected something unique from Gayle Forman.
And finally my last but not least issue with this book. It has one of my pet peeves. I know it's just my personal preference; probably many readers won't be as annoyed as I was. Though one of my friends will definitely have the same feelings as I did (I'm looking at you Jeanne). The love interest had very beautiful and expressive eyes, and the author kept reminding this again and again. Nowadays authors often do this "eyes thing". It seems heroes don't have other parts of their body which deserve attention. It's like Suzanne Collins started this trend with Finnick's famous sea green eyes. Just to prove my point some quotes:
"I see that his eyes are impossibly blue"
"She'd also written about his eyes, so blue, she'd thought he wore contacts. I look at them now. They are weirdly blue"
"His eyes are a whole different color here, in the pale light of Meg's room."
"His eyes, this time, look like the color of a sky after sunset, almost violet. I've never seen someone whose eyes change colors, like some mood ring to the soul."
"His eyes go wide. They're an electric shade of blue now, or maybe it's just the reflected glow of the TV."
"He looks at me. And those eyes. I have to look away."
"His eyes, they change, like a traffic light going from green to yellow."
"I look at him. His eyes, like the skin under them, seem bruised."
"His eyes, a soft blue, like the empty swimming pool outside, widen in surprise."
"I take him in. His eyes are violet this morning, almost bruised; they match the purplish skin under them."
Despite my disappointment I gave I Was Here 3 Stars which is a positive rating for me, and it means that it was a solid read. Two things saved this book for me: Gayle Forman's gorgeous writing and fantastic narration by Jorjeana Marie.
Gayle Forman writes so beautifully, that after one book I wanted more, and more, and more. My GR friend Thomas said in his review that Gayle Forman's writing has "water-like quality". I can't agree more.
My thoughts about the audiobook
I went for the audio version of I Was Here because of my friend Arlene from Waves of Fiction. She went on some book event where Jorjeana Marie read chapters from this book. When Arlene told that she was blown away by her performance, I knew that I want to listen to audiobook. And I'm so glad I did it. Jorjeana Marie is very talented narrator; I'm very impressed by her performance. I definitely want to listen more of her works.
All in all I Was Here is not a bad book, but it didn't live up to the level I was expecting from Gayle Forman. In truth I don't know whom to recommend this book. If you haven't read anything by this author, I recommend start with If I Stay and Where She Went. If you love Gayle Forman's writing as much as I do, I'm sure you would read her latest book no matter what.
AUDIO SAMPLE: