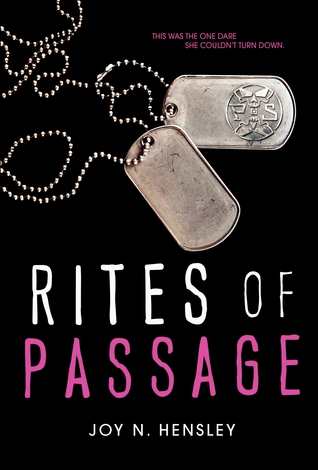 Title: Rites of Passage
Author: Joy N. Hensley
My rating: 4.5 of 5 Stars
SUMMARY
Sam McKenna's never turned down a dare. And she's not going to start with the last one her brother gave her before he died.
So Sam joins the first-ever class of girls at the prestigious Denmark Military Academy. She's expecting push-ups and long runs, rope climbing and mud-crawling. As a military brat, she can handle an obstacle course just as well as the boys. She's even expecting the hostility she gets from some of the cadets who don't think girls belong there. What she's not expecting is her fiery attraction to her drill sergeant. But dating is strictly forbidden and Sam won't risk her future, or the dare, on something so petty… no matter how much she wants him.
As Sam struggles to prove herself, she discovers that some of the boys don't just want her gone—they will stop at nothing to drive her out. When their petty threats turn to brutal hazing, bleeding into every corner of her life, she realizes they are not acting alone. A decades-old secret society is alive and active… and determined to force her out.
At any cost.
Now time's running short. Sam must decide who she can trust… and choosing the wrong person could have deadly consequences.
MY THOUGHTS
Rites of Passages is one of those books that stayed on my to-be-read list for a long time, buried under newer releases and more hyped books. And what a shame! I loved this book! From the first page it sucked me in and didn't let go until I closed the last page. Joy N. Hensley's writing flows easily and has this addictive quality. I've read this book in two sittings which is rare for me.
I don't think I'll write a full review on this book. I didn't make one single bookmark or highlighted anything, because I was so engrossed in the story. But I'll tell you this:
Rites of Passage is enjoyable and addictive read.
Plot is interesting; there wasn't a dull moment in this book.
Sam McKenna was a strong-willed likable heroine. I'm sure many readers will connect with her and relate to her.
Love interest is amazing! He goes on my "awesome-hero" shelf.
While the romance took back seat to the main story, it was absolutely swoon-worthy.
The book feels very authentic. The author went to a military school on a dare and her personal experience is evident throughout the book.
There is strong message in this book, that every girl can accomplish so much in male-dominated world.
My only complaint is the ending romance-wise. Romantic in me couldn't be satisfied with it. That's why I gave it 4.5 Stars.
I loved this book. Highly recommended.